For the airport located on the northeast coast of Tourist Island, see Airport (Tourist Island).
Airport Terminal (Construction)
Plot
Fixed
Cost
30 
10 
Provides
500 
Population limit:

5,000 

No periodic benefit
Construction
Instant

The Airport Terminal is a fixed location to the north-east of the starting zone added during an update on 05.17.2013.
As with all construction projects, there is a choice between waiting, and receiving gifts via neighbors, or buying any/all required assets with megabucks

. A total of 15 assets are needed to complete construction of the Airport Terminal; this equates to 15 

if you were to buy every asset.
After the Airport Terminal construction is complete you are given the option to build:

Added during the Major Update 02/12/2013 - Airplanes now taxi from the Airport Terminal - Concourse A & Concourse B to the Runway and take off once a Contract is assigned. Flying in different directions - planes return at the end of each Contract.
Quests and Achievements
Quests:
Achievements:
Requirements
Construction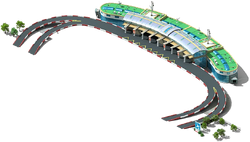 Trivia
Two landmarks are visible once the Airport Terminal has been completed: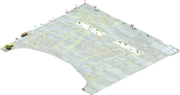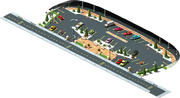 Animated Photos
Ad blocker interference detected!
Wikia is a free-to-use site that makes money from advertising. We have a modified experience for viewers using ad blockers

Wikia is not accessible if you've made further modifications. Remove the custom ad blocker rule(s) and the page will load as expected.