Ancient Fort (Foundation)
Plot
Fixed
Cost
50,000 
3 
250 
140 
Provides
170 
Population limit:

17,000 

No periodic benefit
Construction
Instant

The Ancient Fort is a Production Building located off the southeast coast of Tourist Island. It was added during an update on 09.06.2013 as part of the Timed Quest called Indian Summer.[1]
The update on 02.06.2014 removed this Structure together with the Airport (Tourist Island) and Tropical Hotel IF no building work had previously commenced. Those who had started (but not necessarily completed) this Structure continue to have access to both the Building and associated Contract.
A total of 135 assets are needed to complete construction of the Ancient Fort. This is equivalent to 145 

if one were to buy every asset instead of waiting to receive them from neighbors.
Quests and Achievements
Quests
Requirements
Contracts
Ancient Fort contracts use Premium-Class Tourists

instead of coins, which are obtained by completing contracts at the Airport (Tourist Island).
Ancient Fort: Contracts
Name
Image
Cost
Time
Reward
XP
Coins/Minute
Requirements
Tour of Old Fort[1]
150 
4 hours
8,000  to 24,000 
104 
11.10  to 33.30 
Ancient Fort (Level 2)
↑ Special Contract: 2 friends may assist, each increasing reward by 6,000 ; they receive 300  each
Ancient Fort Frame (Level 1)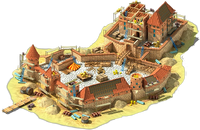 Ancient Fort (Level 2)