The Bahrain Tower is an infrastructure structure that can be placed anywhere in anywhere except Las Megas. It was originally introduced on August 28, 2015.[1]
A total of 70 assets are needed to complete construction of the Bahrain Tower. This is equivalent to 80 

if one were to buy every asset instead of waiting to receive them from neighbors.
Requirements
Bahrain Tower (Level 1)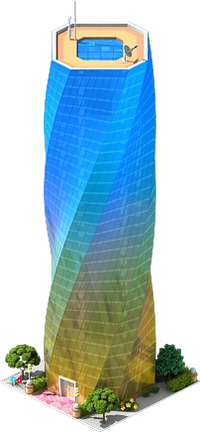 Trivia
SQ Internal Info:

Name: Небоскреб "Бахрейн" (translates to Skyscraper "Bahrain")
ID: 10019937 (bahrain_bay_buildsite)
References