Baseball Federation Headquarters (Construction)
Plot
3x3 tall
Cost
30,000 
15 
10 
Provides
300 
Population limit:

15,000 

No periodic benefit
Construction
Instant
The Baseball Federation Headquarters is a production building added during an update on 06.28.2013[1] as part of National Championship timed quest.
As with all construction projects, there is a choice between waiting, and receiving gifts via neighbors, or buying any/all required assets with megabucks

. A total of 15 assets are needed to complete construction of the Baseball Federation Headquarters; this equates to 15 

if you were to buy every asset.
Quests and Achievements
Requirements
Contracts
Baseball Federation Headquarters: Contracts
Name
Cost
Duration
Reward
XP
Coins/Minute
XP/Minute
Requirements

Making Quantums Baseball Caps
9,250 
4 hours
18,000 
40 
36.46 
0.17 
Baseball Federation Headquarters

Holding the National Championship Qualifying Round
8,300 
6 hours
17,300 
70 
25.00 
0.19 
Championship Press Center

Holding the Women's Baseball Championship
5,900 
8 hours
19,500 
100 
28.33 
0.21 
Hotel for Championship Attendees

Releasing Baseball Cards
4,600 
4 hours
14,600 
70 
41.67 
0.29 
Megapolis Quantums Fan Club

Holding the National Championship
6,200 
12 hours
29,000 
150 
31.67 
0.21 
Large Baseball Stadium
(Level 2)

Honoring the Winners of the National Baseball Championship
5,800 
12 hours
32,200 
360 
36.67 
0.50 
Championship Cup
Baseball Federation Headquarters (Level 1)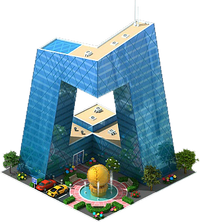 Extra Infrastructures
Megapolis Quantums Fan Club
84,000

or 4 

 @ Level 15 / 3 

@ Level 17
Maximum 5 can be built
25

and 15 

2x2 Plot
3 hours build
350

and 7,300 


Access to Releasing Baseball Cards contract above
280

and 12 

every 4 hours
Coins per Minute: 1.17 


XP per Minute: 0.05 

Can be sold for 16,800 

Deprecated Buildings
Megapolis Quantums Fan Club[2]
50,000

or 4 

 @ Level 15 / 3 

@ Level 17
Maximum 5 can be built
25

and 15 

2x2 Plot
3 hours build
750

and 20,000 


Access to Releasing Baseball Cards contract above
230

and 10 

every 6 hours
Coins per Minute: 0.64 


XP per Minute: 0.03 

Can be sold for 10,000 

Trivia
SQ Internal Info:

Name: Штаб-квартира федерации бейсбола (translates to Baseball Federation Headquarters)
ID: 17624 (baseball_headquarters_buildsite)
References
↑ Before October 17, 2014