Baseball Stadium (Construction)
Plot
3x3 short
Cost
50,000 
3 
15 
10 
Provides
500 
Population limit:

10,000 

No periodic benefit
Construction
Instant
The Baseball Stadium is a production building added during an update on 06.18.2013 as part of Baseball in Megapolis timed quest.
As with all construction projects, there is a choice between waiting, and receiving gifts via neighbors, or buying any/all required assets with megabucks

. A total of 35 assets are needed to complete construction of the Baseball Stadium; this equates to 35 

if you were to buy every asset.
Quests and Achievements
Requirements
Contracts
Baseball Stadium: Contracts
Name
Cost
Duration
Reward
XP
Coins/Minute
XP/Minute
Requirements

Exhibition Game
8,500 
4 hours
16,500 
50 
33.33 
0.21 
Baseball Stadium

Cheerleading Competition
7,800 
8 hours
24,600 
120 
35.00 
0.25 
Cheerleader School

Training Exhibition
10,400 
6 hours
19,600 
160 
25.56 
0.44 
Sports Medicine Center

Youth Championship (Baseball Stadium)
7,870 
12 hours
28,470 
200 
28.61 
0.28 
Major League Training Camp

Softball Championship
6,400 
12 hours
31,600 
400 
35.00 
0.56 
Louisville Slugger Baseball Bat Factory
Baseball Stadium Frame (Level 1)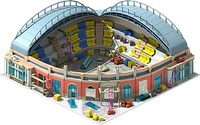 Baseball Stadium (Level 2)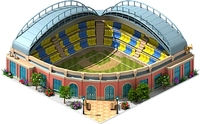 Extra Infrastructures
Sports Bar
75,000

or 4 

 @ Level 15 / 2 

@ Level 17
Maximum 5 can be built
24

and 12 

2x2 Plot
4 hours build
340

and 7,200 

1,200

and 50 

every 16 hours
Coins per Minute: 1.25 


XP per Minute: 0.05 

Can be sold for 15,000 

Deprecated Buildings
Sports Bar[1]
75,000

or 4 

 @ Level 15 / 2 

@ Level 17
Maximum 5 can be built
24

and 18 

2x2 Plot
4 hours build
725

and 15,000 

1,000

and 100 

every 16 hours
Coins per Minute: 1.04 


XP per Minute: 0.10 

Can be sold for 15,000 

Trivia
SQ Internal Info:

Name: Бейсбольная арена (translates to Baseball arena)
ID: 17534 (baseball_stadium_stage1)
References
↑ Before October 17, 2014