Canadian National Gallery (Foundation)
Plot
3x3
Cost
1,340,000 
12 
13 
Provides
1,750 
Population limit:

20,460 

No periodic benefit
Construction
Instant

The Canadian National Gallery is a production building added during an update on 02.25.2014.[1]
A total of 135 assets are needed to complete construction of the Canadian National Gallery. This is equivalent to 135 

if one were to buy every asset instead of waiting to receive them from neighbors.
Requirements
Only available on Megapolis main land, and the user can only create one instance of the building.
Contracts
Canadian National Gallery: Contracts
Name
Cost
Duration
Reward
XP
Coins/Minute
XP/Minute
Requirements

Opening of a Solo Exhibition[c 1]
7,000 
4 hours
17,000 
240 
41.67 
1.00 
Canadian National Gallery (Level 2)

Hosting a Photography of the Future Exhibition[c 2]
12,000 
8 hours
36,000 
500 
50.00 
1.04 
Canadian National Gallery (Level 2)

Hosting a Canadian Art Exhibition[c 3]
17,000 
10 hours
52,000 
750 
58.33 
1.25 
Canadian National Gallery (Level 2)

Hosting an Interactive Multimedia Exhibition[c 4]
25,000 
12 hours
73,000 
1,000 
66.67 
1.39 
Canadian National Gallery (Level 2)

Hosting an Open Photography Contest[c 5]
35,000 
14 hours
98,000 
1,500 
75.00 
1.79 
Canadian National Gallery (Level 2)

Organizing a Modern Art Auction[c 6]
40,000 
16 hours
120,000 
2,000 
83.33 
2.08 
Canadian National Gallery (Level 2)
Contract Notes:
Canadian National Gallery Frame (Level 1)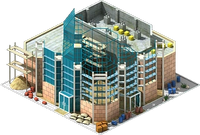 Canadian National Gallery (Level 2)
References