The Cascade Station is a transport hub located northern north west boundary of Archipelago expansion zone. It was originally introduced on August 21, 2015.[1]
A total of 335 assets are needed to complete construction of the Cascade Station. This is equivalent to 335 

if one were to buy every asset instead of waiting to receive them from neighbors.
Quests and Achievements
Achievements
Requirements
Cascade Station (Level 1)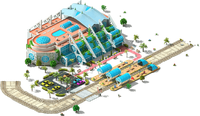 Cascade Station: Waiting Room (Level 2)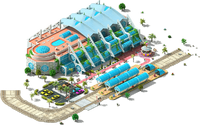 Cascade Station: Business Class Waiting Room (Level 3)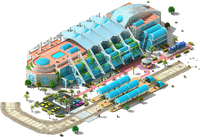 Cascade Station: Luggage Room (Level 4)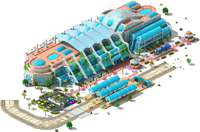 Data
Level
XP
Production
Limit
Rate[d 1]
Limit
Rate[d 2]
Max Cap Duration
1
300 
36,000 
2250/hour
1,800 
112.5/hour
16:00:00
2
500 
60,000 
6750/hour
3,000 
337.5/hour
08:53:20
3
800 
80,000 
10125/hour
4,000 
506.3/hour
07:54:05
4
1,500 
100,000 
18140.6/hour
5,000 
907/hour
05:30:45
↑ Bonus:
↑ Bonus:
Trivia
SQ Internal Info:

Name: Строительство вокзала "Каскад" (translates to Construction of the station "Cascade")
ID: 72097 (train_station_cascade_place)
References
Ad blocker interference detected!
Wikia is a free-to-use site that makes money from advertising. We have a modified experience for viewers using ad blockers

Wikia is not accessible if you've made further modifications. Remove the custom ad blocker rule(s) and the page will load as expected.