---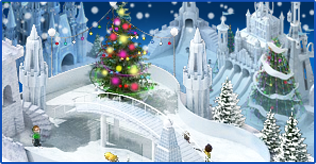 (Month dd 2014 09:00:00 +0200 remaining)
Christmas Story
Objective(s)

Build and Upgrade:

Reward(s)
Christmas Story is a Timed Quest in which the player has 192 hours to build and upgrade a total of 4 new structures with assets leading up to Winter related rewards. It was released as part of an update on 12.14.2012.[1]
"Festival Town, Christmas Tree, Ice Sculptures and Fairy Tale Castle are essential for preparing for the great holiday!"
"Santa Clause himself has arrived on a festive visit to Megapolis. He will take care of Christmas preparations and it will be a wonderful holiday."
"The citizens ask the Mayor to build a Festival Town."
"Embark on the Christmas Adventure! Build a Festival Town and get a Fairy Tale Castle as a present!"
Requirements
TIP
Depending on how one plays the game, this quest may require approximately total (for assets) and (for contracts, buildings and foundation purchases) to complete fully.
Stage 1 - It's Christmas Time!
Ho Ho Ho! Christmas is close at hand! It is time to prepare the city for this holiday. I will help you with this complicated job.
Tasks:
Christmas is coming and it's time for a fabulous makeover! There should be a Christmas Tree and Snow Sculptures in the city as well as wonderful Christmas surprises!
Rewards:
The residents are in festive mood! And you get a present: materials to continue building the Snow Town.
Stage 2 - Christmas Surprises
Ho Ho! Complete my Christmas tasks and you will get a present: resources for building a Snow Town.
Tasks:
Christmas is always full of wonders! Please get your city ready for them!
Rewards:
The wonders of Christmas are getting closer and closer. The city should be ready for celebrations in time, so you receive free materials to finish the Christmas Tree!
Stage 3 - Ice Pegasus
Winter fuss ends only with the snows starting to melt. So there is much left to do!
Tasks:
The Snow Town can become even fancier! It needs some Green Garlands and an Ice Pegasus...
Rewards:
Pegasus is complete and the Christmas Tree is even lovelier now. Keep on preparing for Christmas since you get additional building materials!
Stage 4 - Ice Hearts
Bring your Snow Town to perfection and receive a fabulous gift from me, Santa Claus!
Tasks:
Christmas is coming. Let's keep decorating the city!
Rewards:
The city is decorated and its residents are happy. And you'll get a reward that will help you improve the Snow Town.
6 x Snow Blocks
3 x Christmas Tree Ornaments
3 x Christmas Music CDs
3 x Christmas Boxes
1 x Sleds
4 x Thermos of Tea
3 x Ice Cutter
Stage 5 - Ice Labyrinth
Your Snow Town is almost finished! You need some slides, a big Christmas Tree and a Snow Labyrinth... Is it possible to reach perfection?
Tasks:
The Snow Town is almost ready; you'll need to set up the Slides, decorate the Christmas Tree and build the Snow Labyrinth.
Rewards:
The city is set in a real winter Fairy Tale! It is so great here! There is not much work left. Your reward is the materials that will help to complete your Snow Town on time!
4 x New Year Flags
4 x Sleds
4 x Christmas Boxes
4 x Christmas Music CDs
4 x Christmas Tree Ornaments
4 x Snow Blocks
6 x Fir Wreaths
4 x Thermos of Tea
4 x Ice Cutter
Stage 6 - Merry Christmas!
It seems that it is possible to reach perfection after all. You're almost there. Just a few steps, and a present from Santa Claus is yours!
Tasks:
The city is almost ready to celebrate Christmas. The genuine Christmas Fairy Tale begins!
Rewards:
Merry Christmas! Receive your reward, the Fairy Tale Ice Castle!
Reward - Christmas Story
Fairy Tale Castle

Requires:
Gives:

Achievement after Building the Fairy Tale Castle
| | |
| --- | --- |
| | "You've built the Fairy Tale Castle and earned a new title: Master of Ice. Would you like to tell your friends?" |
Trivia
Social Quantum's internal name for this quest is "Новогодняя История" which translates to "Christmas Story".
Social Quantum's ID for this quest is 70100.
References