The Coal Industrial Center is an industrial hub located on the southern south west border of the Mountain Plains expansion zone in Industrial Complex. It was originally introduced on July 15, 2015 as part of the timed quest called Industrial Complex.[1]
A total of 150 assets and additional 1,250,000 

worth diagrams are needed to complete construction of the Coal Industrial Center. This is equivalent to 150 

if one were to buy every asset instead of waiting to receive them from neighbors.

On July 21, 2015, coin assets' values were updated as follows:
Events and Achievements
Requirements
Coal Industrial Center (Level 1)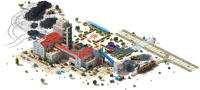 Coal Industrial Center: Coal Processing Plant (Level 2)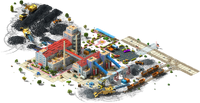 Coal Industrial Center: Briquetting Section (Level 3)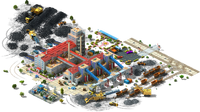 Trivia
SQ Internal Info:

Name: Угольный промышленный центр (translates to Coal industrial center)
ID: 23018 (mining_coal_station_place)
References