For the site on Tourist Island, see Coastal Hotels.
Coastal Hotel (Construction)
Plot
Fixed
Cost
At Level 21, 150,000 
At Level 15, 3 
25 
15 
Provides
350 
Population limit:

+5,000 

No periodic benefit
Construction
Instant

The Coastal Hotel is a fixed location to the south of the starting zone added during the Update/04.23.2013. It is to the south east of game zone four (unlocked after the Underwater Tunnel has been built). It can be upgraded five levels, all granting a higher increase to the Population Cap and accessing several tour contracts.
As with all construction projects, there is a choice between waiting, and receiving gifts via neighbors, or buying any/all required assets with megabucks

. A total of 533 assets are needed to complete construction of the Coastal Hotel to level five; this equates to 630 

if you were to buy every asset.
Quests and Achievements
Edit
Quests
Achievements
Requirements
Edit
"Start contracts at a Coastal Hotel and send premium guests on itineraries through your Megapolis! One itinerary may include 3 to 6 different points of interest. The duration of the visit at each point of interest varies based on the contract, from 3 to 6 hours. After a tourist visits an attraction, you'll need to log in to the game and send him or her to the next tour destination. You'll receive coins and experience for each visit. The more places your premium guest visits, the more you'll get! If the tour is not completed in time, the premium guest will leave the Hotel and you'll have to begin a new contract."
Coastal Hotel: Contracts
Name
Image
Cost
Time
Reward
XP
Coins/Minute
Requirements
Sightseeing Tour
20,000 
3 x 3 hours
(12 hours max)
6,600 
15,000 
16,000 
total: 37,600 
105 
24.4  to 32.6 
Coastal Hotel (Level 2)
Photo Tour
32,500 
4 x 4 hours
(24 hours max)
10,725 
22,100 
22,750 
24,375 
total: 79,950 
160 
32.9  to 49.4 
Recreational Center (Level 3)
Exclusive Tour
50,000 
5 x 5 hours
(48 hours max)
16,500 
25,000 
27,500 
35,000 
45,000 
total: 149,000 
225 
34.4  to 66.0 
Spa (Level 4)
Premium Tour
65,000 
6 x 6 hours
(72 hours max)
16,250 
26,000 
32,500 
39,000 
45,500 
58,500 
total: 217,750 
300 
35.4  to 70.7 
Premium Center (Level 5)
Tour Process
Edit
Each tour requires multiple stops at Infrastructure buildings. This may include buildings that a player does not currently have built, in which case the player will need to purchase and complete the building before the tour can visit it. Any such buildings will always be sequenced at the end of the tour.
It is possible to complete a tour before the timer expires by visiting the Coastal Hotel clicking the "Collect" button (it may take a few seconds for "Cancel" to change to "Collect"). For example, the Premium Tour lasts 72 hours, but can be completed in 36 hours if the player returns every 6 hours to send the tourists to the next destination without any delays. This raises the income rate to the maximum 70.7 

per minute.
On the other hand, if the player does not return in time to send the tourists out on all of the visits, the player only receives income for the visits completed by the time the tour expires.
| | |
| --- | --- |
| Bug | On Android and iOS, the stop counter in the blue popup infobox has a glitch and does not update to the current number of stops completed until after the Coastal Hotel tour menu is accessed.[1] |
The Frame (Level 1)
Edit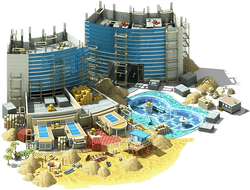 | Asset | Image | Amount | Cost |
| --- | --- | --- | --- |
| | | x10 | 1  |
| | | x10 | 1  |
| | | x10 | 1  |
| | | x10 | 1  |
| | | x10 | 1  |
| | | x10 | 1  |
| | | x10 | 1  |
| | | x10 | 1  |
The Coastal Hotel (Level 2)
Edit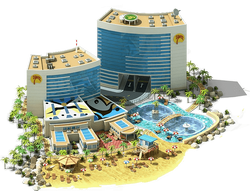 | Asset | Image | Amount | Cost |
| --- | --- | --- | --- |
| | | x10 | 1  |
| | | x10 | 1  |
| | | x15 | 1  |
| | | x15 | 1  |
| | | x10 | 1  |
| | | x15 | 1  |
| | | x10 | 2  |
| | | x15 | 1  |
The Recreational Center (Level 3)
Edit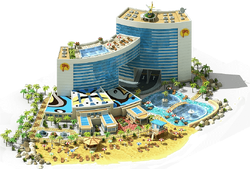 | Asset | Image | Amount | Cost |
| --- | --- | --- | --- |
| | | x10 | 1  |
| | | x10 | 1  |
| | | x15 | 1  |
| | | x10 | 1  |
| | | x10 | 1  |
| | | x15 | 1  |
| | | x15 | 1  |
| | | x10 | 1  |
| | | x15 | 1  |
| | | x10 | 1  |
The Spa (Level 4)
Edit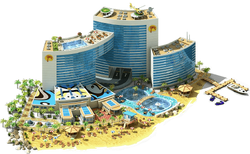 | Asset | Image | Amount | Cost |
| --- | --- | --- | --- |
| | | x10 | 1  |
| | | x10 | 1  |
| | | x10 | 1  |
| | | x15 | 1  |
| | | x10 | 1  |
| | | x20 | 1  |
| | | x10 | 1  |
| | | x15 | 1  |
| | | x5 | 2  |
| | | x15 | 1  |
The Premium Center (Level 5)
Edit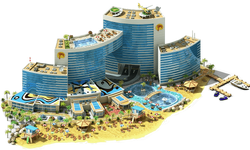 | Asset | Image | Amount | Cost |
| --- | --- | --- | --- |
| | | x15 | 2  |
| | | x15 | 3  |
| | | x15 | 2  |
| | | x15 | 1  |
| | | x10 | 1  |
| | | x5 | 4  |
| | | x5 | 3  |
| | | x10 | 1  |
| | | x15 | 1  |
| | | x15 | 1  |
References
Edit