This information is outdated. A new article is under construction. See Daily Gifts/New.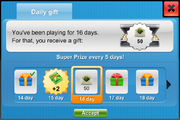 For every consecutive day of playing, the player is rewarded with a daily gift. If a player stops playing for 24 hours, or plays continuously for 30 days[1], the counter is reset back to 1 on the next day. However, following the 05.09.2014 update, some rewards continue to increase in the latter case, apparently through up to ten 30-day cycles.
Originally, the rewards included:

As of an update on 05.09.2014, the rewards changed to include:
Gifts that require collection
Mobile Client only
References
Ad blocker interference detected!
Wikia is a free-to-use site that makes money from advertising. We have a modified experience for viewers using ad blockers

Wikia is not accessible if you've made further modifications. Remove the custom ad blocker rule(s) and the page will load as expected.