| | | | | | |
| --- | --- | --- | --- | --- | --- |
| | | | | | |
| Main Zone | Industrial Complex | Tourist Island | Space Launch Facility | Las Megas | Rocky Mountains |
Expansions increase the playable area where you can place buildings.
Expansion Territories
There are eight Expansion Territories in the main Megapolis Game Zone that can be unlocked:
Starting territory - In the center of the map, encompassing the mouth of the river and areas to the northeast.
Road Junction territory - northwest of the starting territory, between the main road and Central Park.
Marina territory - west of the starting territory, on the north coast of the ocean (released 04.09.2013).[1]
Underwater Tunnel territory - southwest of the starting territory, on the island (released 03.07.2013).[1]
Overpass territory - northeast of the starting territory, beyond the Airport Terminal (released 06.25.2013).
Heliport territory - southeast of the starting territory, in the middle of the desert (released 10.11.2013).
North Area (North Exit and Logistics Center territory) - north of the starting territory, north of the Overpass (released 01.10.2014).
Riverside Station (North Station, Interchange Station, Traction Substation and Riverside Station territory) - northwest of the starting territory, northwest of the Road Junction (released 03.14.2014).
The expansion territories can be accessed in any order with the exception of the North Area, which requires completion of the Overpass to begin construction of the North Exit. The system of expansion varies slightly between the Facebook networks and the Social Quantum Networks.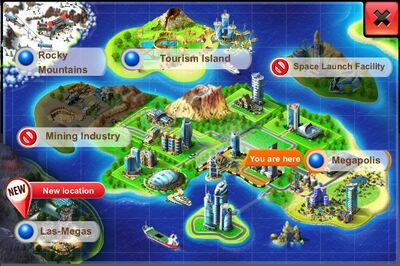 Additional Game Zones
A major update on 08.06.2013 introduced new Game Zones beyond the original Megapolis game zone, each of which includes its own playable expansion territory. Players switch between these game zones by way of a map. Each game zone has a separate

cap and uses a separate allocation of

and

based only upon the buildings in that zone, although

are shared between all game zones. Standard Production Buildings from the store are only available in the mainland and Rocky Mountains game zone, and several Infrastructure buildings are only available in certain game zones.
Footnotes
↑ 1.0 1.1 Although the Underwater Tunnel was introduced first, the Marina became territory 3 when released and the Tunnel was made territory 4. SQ forums, Player Help & Support, Post #1069
Once a territory is unlocked, the area available for building can be expanded with:
Acts of Territorial Expansion (AoTE) (Not all the expansions.)
Total neighbors (Only the first expansion could be unlocked by neighbors.)
Megabucks  (All the expansions could be unlocked by MB)
Once a territory is unlocked, the area available for building can be expanded with:
Acts of Territorial Expansion (AoTE) (as of Update/04.09.2013)  (And there seems to be a bug, the mobile version game needs twice the amount of AoTE in the storage to unlock one expansion while The Facebook app doesn't.)
Megabucks
First Game Territory
Expansion
Cost
Additional Playable[1]
MB
AoTE
AoTE per MB
squares
per MB
per AoTE
9X9
-
-
-
76/81
-
-
11X11
3
2
0.7
29/40
  9.7
14.5
13X13
3
5
1.7
40/48
13.3
  8
15X15
3
10
3.3
49/56
16.3
  4.9
17x17
5
15
3
54/64
10.8
  3.6
19X19
5
20
4
53/72
10.6
  2.7
21X21
5
30
6
67/80
13.4
  2.2
23X23
7
40
5.7
62/88
  8.9
  1.6
25X25
7
50
7.1
68/96
  9.7
  1.4
27X27
7
61/104
  8.7
29X29
9
66/112
  7.3
31X31
10
67/120
  6.7
33X33
11
72/128
  6.5
35X35
10
73/136
  7.3
37X37
9
77/144
  8.6
39X39
8
82/152
10.3
41X41
7
84/160
12
Total
109
Second Expansion Territory
Expansion
Cost
Additional Playable
MB
AoTE
AoTE per MB
squares
per MB
per AoTE
9X9
-
-
-
47/81
-
-
11X11
3
2
0.7
34/40
11.3
17
13X13
3
5
1.7
42/48
14
  8.4
15X15
3
10
3.3
50/56
16.7
  5
17x17
5
15
3
55/64
11
  3.7
19X19
5
20
4
61/72
12.2
  3.1
21X21
5
30
6
67/80
13.4
  2.2
23X23
7
40
5.7
74/88
10.6
  1.9
25X25
7
50
7.1
83/96
11.9
  1.7
27X27
7
91/104
13
29X29
9
105/112
11.7
31X31
9
109/120
12.1
33X33
9
116/128
12.9
35X35
10
123/136
12.3
37X37
10 
131/144
13.1
39X39
10 
139/152
13.9
41X41
10 
145/160
14.5
Total
112
Third Expansion Territory
Expansion
Cost
Additional Playable
MB
AoTE
squares
per MB
9X9
–
–
81
–
11X11
3
2
40
13.3
13X13
3
5
48
16.0
15X15
3
10
56
18.7
17x17
5
15
64
12.8
19X19
5
20
72
14.4
21X21
5
30
80
16.0
23X23
7
40
88
12.6
25X25
7
50
96
13.7
27X27
7
104
14.9
29X29
9
112
12.4
31X31
9
120
13.3
33X33
9
128
14.2
35X35
10
136
13.6
37X37
10
144
14.4
39X39
10
152
15.2
41X41
10
160
16.0
Total
112
Fourth Expansion Territory
Expansion
Cost
Additional Playable
MB
AoTE
squares
per MB
13X13
–
–
39/169
–
15X15
3
10
56
18.7
17x17
5
15
64
12.8
19X19
5 
20
72
14.4
21X21
5 
30
80
16
23X23
7 
40
88
12.6
25X25
7 
50
96
13.7
27X27
7 
104
14.9
29X29
9 
112
12.4
31X31
9 
120
13.3
33X33
9 
128
14.2
35X35
10 
136
13.6
37X37
10 
144
14.4
39X39
10 
152
15.2
41X41
10 
160
16
Total
106 
Fifth Expansion Territory
Expansion
Cost
Additional Playable
MB
AoTE
squares
per MB
9X9
-
-
81
-
11X11
3
2
40
13.3
13X13
5
5
48
  9.6
15X15
5
10
56
11.2
17x17
5
15
64
12.8
19X19
5
20
72
14.4
21X21
5
30
80
16.0
23X23
7
40
88
12.6
25X25
7
50
96
13.7
27X27
7
104
14.9
29X29
9
112
12.4
31X31
9
120
13.3
33X33
9
128
14.2
35X35
10
136
13.6
37X37
10
144
14.4
39X39
10
152
15.2
41X41
10
160
16.0
Total
116
Sixth Expansion Territory
Expansion
Cost
Additional Playable
MB
AoTE
squares
per MB
9X9
-
-
81
-
11X11
3 
2
40
13.3
13X13
5 
5
48
  9.6
15X15
5 
10
56
11.2
17x17
5 
15
64
12.8
19X19
5 
20
72
14.4
21X21
5 
30
80
16.0
23X23
7 
40
88
12.6
25X25
7 
50
96
13.7
27X27
7 
104
14.9
29X29
9 
112
12.4
31X31
9 
120
13.3
33X33
9 
128
14.2
35X35
10 
136
13.6
37X37
10 
144
14.4
39X39
10 
152
15.2
41X41
10 
160
16.0
Total
116
Seventh Expansion Territory
Expansion
Cost
Additional Playable
MB
AoTE
squares
per MB
9X9
-
-
81
-
11X11
3
2
40
13.3
13X13
5
5
48
  9.6
15X15
5
10
56
11.2
17x17
5
15
64
12.8
19X19
5
20
72
14.4
21X21
5
30
80
16
23X23
7
40
88
12.6
25X25
7
50
96
13.7
27X27
7
104
14.9
29X29
9
112
12.4
31X31
9
120
13.3
33X33
9
128
14.2
35X35
10
136
13.6
37X37
10
144
14.4
39X39
10
152
15.2
Total
106 
Eighth Expansion Territory
Expansion
Cost
Additional Playable
MB
AoTE
squares
per MB
9X9
-
-
81
-
11X11
3
2
40
13.3
13X13
5
5
48
  9.6
15X15
5
10
56
11.2
17x17
5
15
64
12.8
19X19
5
20
72
14.4
21X21
5
30
80
16
23X23
7
40
88
12.6
25X25
7
50
96
13.7
27X27
7
104
14.9
29X29
9
112
12.4
31X31
9
120
13.3
33X33
9
128
14.2
35X35
10
136
13.6
37X37
10
144
14.4
39X39
10
152
15.2
41X41
10
160
16
Total
116 
Tourist Island
Expansion
Cost
Additional Playable
MB
AoTE
squares
per MB
9X9
-
-
81
-
11X11
3
2
40
13.3
13X13
5
5
48
  9.6
15X15
5
10
56
11.2
17x17
5
15
64
12.8
19X19
5
20
72
14.4
21X21
5
30
80
16.0
23X23
7
40
88
12.6
25X25
7
50
96
13.7
27X27
7
104
14.9
29X29
9
112
12.4
31X31
9
120
13.3
33X33
9
128
14.2
35X35
10
136
13.6
37X37
10
144
14.4
39X39
10
152
15.2
41X41
10
160
16.0
Total
116
Rocky Mountains
Expansion
Cost
Additional Playable
MB
AoTE
squares
per MB
9X9
-
-
81
-
11X11
3
2
40
13.3
13X13
5
5
48
  9.6
15X15
5
10
56
11.2
17x17
5
15
64
12.8
19X19
5
20
72
14.4
21X21
5
30
80
16.0
23X23
7
40
88
12.6
25X25
7
50
96
13.7
27X27
7
104
14.9
29X29
9
112
12.4
31X31
9
120
13.3
33X33
9
128
14.2
35X35
10
136
13.6
37X37
10
144
14.4
39X39
10
152
15.2
41X41
10
160
16.0
Total
116
Las Megas
Expansion
Cost
Additional Playable
MB
AoTE
AoTE per MB
squares
per MB
per AoTE
9X9
-
-
-
81/81
-
-
11X11
2
2
1
40
20
20
13X13
3
5
1.7
48
16
9.6
15X15
5
10
2
56
11.2
5.6
17x17
5
15
3
64
12.8
4.3
19X19
5
20
4
72
14.4
3.6
21X21
5
30
6
80
16
2.7
23X23
7
40
5.7
88
12.6
2.2
25X25
7
96
13.7
27X27
7
104
14.9
29X29
9
112
12.4
31X31
9
120
13.3
33X33
9
128
14.2
35X35
10
136
13.6
37X37
10
144
14.4
39X39
10
152
15.2
41X41
10
160
16
Total
113