Ad blocker interference detected!
Wikia is a free-to-use site that makes money from advertising. We have a modified experience for viewers using ad blockers

Wikia is not accessible if you've made further modifications. Remove the custom ad blocker rule(s) and the page will load as expected.
Gas Power Plant (Initial)
Plot
Fixed
Cost
At Level 40, 350,000 
At Level 15, 8
At Level 30, 5 
N/A 
10 
Provides
750 
Population limit:
No periodic benefit
Construction
Instant
The Gas Power Plants are three power supply building which were initially located at central south east of the starting game zone, but later moved to the desert north east of the Shivaji Station near Heliport Expansion Zone on July 15, 2015 for addition of new railtracks and Cargo Depot. Each can be upgraded four levels, all granting a higher increase to the Population Cap and maximum

usage.
A total of 170 assets are needed to complete construction of the Gas Power Plant. This is equivalent to 170 

170 
if one were to buy every asset instead of waiting to receive them from neighbors.
These sites are one of two building types that are built in the center of the desert. The other being the Artesian Well.
Quests
Requirements
Gas Power Plant (Level 1)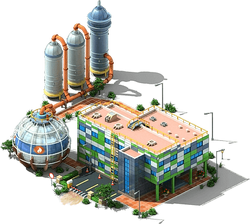 Before you can continue onto the next level, you must hire three neighbors to work at the Gas Power Plant in the following jobs:
| | | |
| --- | --- | --- |
| | | |
| Boiler Plant Fitter | Gas Power Plant CEO | Gas Power Plant Operator |
TIP
You can also hire NPCs for 1 each.
Gas Power Plant (Level 2)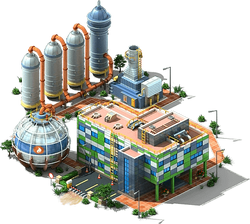 Gas Power Plant (Level 3)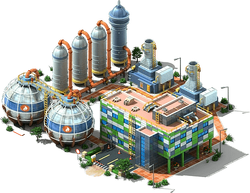 Trivia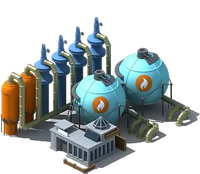 Social Quantum's Original Gas Power Plant.