Gothic Castle (Foundation)
Plot
Fixed
Cost
85,000 
2 
9 
7 
Provides
300 
Population limit:

2,800 

No periodic benefit
Construction
Instant

The Gothic Castle is a production building located on the south west of Riverside Station expansion territory. It was added during an update on 10.28.2014 as part of the timed quest called Halloween in Megapolis.[1]
A total of
170 assets
are needed to complete construction of the
Gothic Castle
. This is equivalent to
170

if one were to buy every asset instead of waiting to receive them from
neighbors
.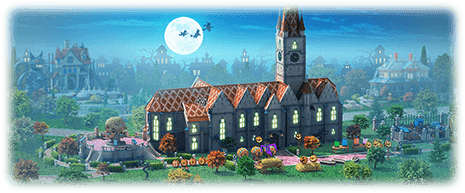 Quests and Achievements
Quests
Requirements
Contracts
Gothic Castle: Contracts
Name
Cost
Duration
Reward
XP
Coins/Minute
XP/Minute
Requirements

Best Scarecrow Contest
1,120 
10 minutes
1,650 
4 
53.00 
0.40 
Gothic Castle (Level 1)

Haunted House Tour
1,200 
15 minutes
2,100 
8 
60.00 
0.53 
Haunted House

Making Terrifying Costumes
1,300 
1 hour 30 minutes
5,500 
48 
46.67 
0.53 
Costume Workshop

Hold a Living Dead Show
3,500 
3 hours
15,100 
130 
64.44 
0.72 
Festival Stage

Pumpkin Carving Master Class
6,300 
6 hours
27,300 
230 
58.33 
0.64 
Pumpkin Bazaar

Measuring Height in Pumpkins
9,200 
9 hours
39,900 
320 
56.85 
0.59 
Gothic Castle: Tower of Terror (Level 2)

Monster Parade
13,800 
12 hours
60,000 
480 
64.17 
0.67 
Gothic Castle: Viewing Point (Level 3)

Spiritual Seance
12,900 
7 hours
55,800 
450 
102.14 
1.07 
Abandoned Manor
Gothic Castle (Level 1)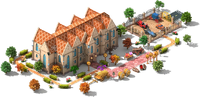 Gothic Castle: Tower Of Terrors (Level 2)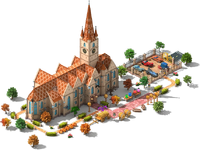 Gothic Castle: Viewing Point (Level 3)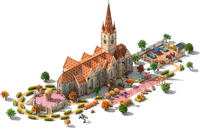 References