"Gustave Flaubert Bridge connects Megapolis Unity Station with Beaux-Arts Station."
---
The Gustave Flaubert Bridge is a mainland bridge which connects the railroad between Megapolis Unity Station and Beaux-Arts Station. It was originally introduced on December 08, 2014.[1]
A total of
105 assets
are needed to complete construction of the
Gustave Flaubert Bridge
. This is equivalent to
105

if one were to buy every asset instead of waiting to receive them from
neighbors
.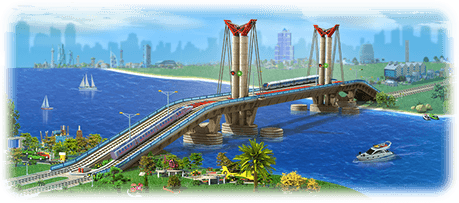 Gallery
Assets
Gustave Flaubert Bridge
Data
| Level | XP |
| --- | --- |
| 0 | 100  |
| 1 | 200  |
| Total/Max | 300  |
Trivia
SQ Internal Info:

Name: Строительство моста имени Гюстава Флобера (translates to Construction of the bridge named after Gustave Flaubert)
ID: 71236 (bridge_gustave_flaubert_place)
References