The Hang Glider Airstrip is an infrastructure structure located on the north hill of Rocky Mountains. It was originally introduced on May 19, 2015 as part of the timed quest called Wind Festival.[1]
A total of 135 assets are needed to complete construction of the Hang Glider Airstrip. This is equivalent to 135 

if one were to buy every asset instead of waiting to receive them from neighbors.
Events and Achievements
Requirements
Hang Glider Airstrip: Hang Glider Hangar (Level 1)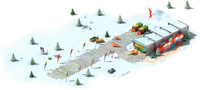 Hang Glider Airstrip: Hang Gliding School (Level 2)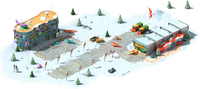 Trivia
SQ Internal Info:

Name: Взлетная полоса для дельтапланов (translates to Runway for hang gliders)
ID: 10019635 (runway_for_gliders_place)
References