The Hydroport is an infrastructure structure located in front of Royal Station at the western corner of Marina expansion zone since the introduction of Archipelago expansion zone. Previously, it was located on the south-west coast of the Business Island in Megapolis Mainland. It was originally introduced on February 06, 2014.[1] As of this update, completion of the Hydroport is now required to access the Tourist Island game zone (previously, access to Tourist Island could be purchased for 200,000 

).
On February 20, 2015, the Hydroport changed from an asset required construction site to a non-asset required construction site.[2] On August 25, 2015, the Hydroport unlocking requirement were changed to Level 30 for Restoring Pompeii event and was reverted back on September 04, 2015.
Requirements
Quests and Achievements
---

A total of 120 assets are needed to complete construction of the Hydroport. This is equivalent to 120 

if one were to buy every asset instead of waiting to receive them from neighbors.
For buildings purchased before February 20, 2015, the data is as follows:
Requirements
Hydroport Frame (Level 1)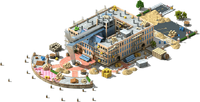 Hydroport (Level 2)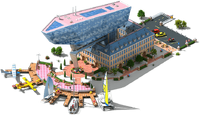 References
Ad blocker interference detected!
Wikia is a free-to-use site that makes money from advertising. We have a modified experience for viewers using ad blockers

Wikia is not accessible if you've made further modifications. Remove the custom ad blocker rule(s) and the page will load as expected.