The Industrial Resources are the items produced in the industries and factories in the Industrial Complex. Oil from the desert mines are also industrial resources. The trains for Industrial Complex are required to run the production on the industries. These are then collected from the industries and stored in the Resource Warehouse in Industrial Complex. From there, the trains for cargo transfer collects the resources and after bringing those to mainland, these are stored in the Cargo Depot. It is then transferred to the Cargo Port where the resources are shipped and sold. Each resources has a different price rate. These were first introduced on July 15, 2015.[1] A second update introduced 12 new resources on June 23, 2016.[2]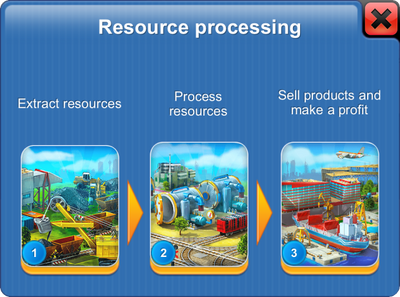 Natural Resources
Produced Resources
Oil Processed Resources
References
↑ 3.0 3.1 Indicates the highest probability of acquiring licenses when shipped out as industrial cargo
Ad blocker interference detected!
Wikia is a free-to-use site that makes money from advertising. We have a modified experience for viewers using ad blockers

Wikia is not accessible if you've made further modifications. Remove the custom ad blocker rule(s) and the page will load as expected.