For the Internaional Terminal at the airport of the Tourist Island game zone, see International Terminal (Tourist Island).

The International Terminal is a transport hub located north-west of Central Station connected using railroads. It was originally introduced on December 08, 2014 as part of the timed quest called Railroad.[1]
On February 20, 2015, the International Terminal received the first upgrade of 1 level[2], on August 21, 2015 the second upgrade of 1 level[3] and on February 02, 2017 the third upgrade of 1 level[4].
A total of 640 assets are needed to complete construction of the International Terminal. This is equivalent to 676 

if one were to buy every asset instead of waiting to receive them from neighbors.
See Rail Transportation for more related details.
Quests and Achievements
Quests
Achievements
Requirements
International Terminal (Level 1)
Note: From February 20, 2015 onward, the International Terminal does not require any assets for Level 1.
International Terminal: Passport Control (Level 2)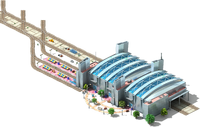 International Terminal: Health Control (Level 3)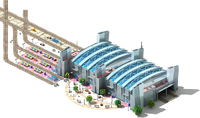 International Terminal: Customs (Level 4)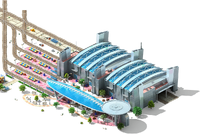 International Terminal: Postal and Cargo Center (Level 5)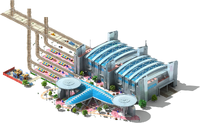 International Terminal: Passenger and Baggage Delivery Service (Level 6)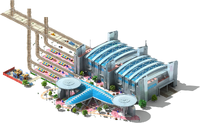 International Terminal: VIP Waiting Room (Level 7)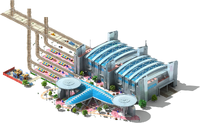 Trivia
SQ Internal Info:

Name: Международный терминал (translates to International Terminal)
ID: 71167 (train_station_global_place)
The stages 6 and 7 do not have any viewable changes and use Stage 5's texture.
References
Ad blocker interference detected!
Wikia is a free-to-use site that makes money from advertising. We have a modified experience for viewers using ad blockers

Wikia is not accessible if you've made further modifications. Remove the custom ad blocker rule(s) and the page will load as expected.