The Logistics Office is a transport hub located on the southern south west border of the Central Region expansion zone in Industrial Complex. It was originally introduced on July 15, 2015 as part of the timed quest called Industrial Complex.[1]
The hub controls all trains running in Industrial Complex to collect Industrial Resources from Industries and delivering them to Resource Warehouse.
A total of 360 assets and additional 220,000 

worth diagrams are needed to complete construction of the Logistics Office. This is equivalent to 360 

if one were to buy every asset instead of waiting to receive them from neighbors.
Events and Achievements
Requirements
Logistics and Inspection Office (Level 1)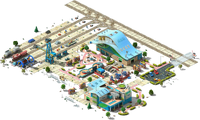 Specialized Logistics Office (Level 2)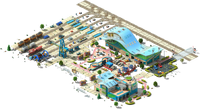 Central Logistics Office (Level 3)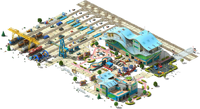 Trivia
SQ Internal Info:

Name: Центральное бюро логистики (translates to Central Office logistics)
ID: 23000 (mining_logistics_center_place)
References
Ad blocker interference detected!
Wikia is a free-to-use site that makes money from advertising. We have a modified experience for viewers using ad blockers

Wikia is not accessible if you've made further modifications. Remove the custom ad blocker rule(s) and the page will load as expected.