---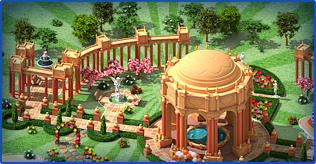 Lovers' Day is a Timed Quest in which the player has 192 hours to build and upgrade 1 area with assets leading up to Valentine's Day-related rewards. It was originally released as part of an update on 02.08.2013[1] and later re-released as part of an update on 02.13.2014.[2]
"Decorate the city for the holiday! Surprise your residents! Construct a Palace of Love."
"The most romantic holiday of the year is coming! Get prepared: decorate your city with flowers and ribbons!
"The residents beg the mayor: Build a Palace of Love
"Build a Palace of Love, create a romantic atmosphere, prepare Megapolis for Saint Valentine's Day!"
Requirements
TIP
Depending on how one plays the game, this quest may require approximately 70  total (for assets) and 275,000  (for building and foundation purchases) to complete fully.
Stage 1 - Lovers' Day (Task)
The holiday is coming and your Megapolis' streets are filled with couples in love. Build as many places for romantic rendezvous as possible!
Tasks:
Decorate your city for the holiday! Build a Fancy Fountain and lodge the just married in new Houses!
Rewards:
Good work! You've built a Fancy Fountain for loving couples and have provided housing for young families!
Stage 2 - Bridal Salon
Valentine's Day is the time for weddings. Build a Bridal Salon in Megapolis!
Tasks:
Surprise the future newlyweds! Build a Bridal Salon, where they can choose their finery!
Rewards:
Amazing! The Bridal Salon will provide future spouses with the best finery for special occasions!
Stage 3 - Palace of Love
Megapolis' residents want you to build a Palace of Love by the holiday!
Tasks:
Build a Palace of Love to please your residents and create a gorgeous monument to romantic rapture!
Rewards:
Truly epic! The Palace of Love will complement your city nicely and make all the residents of your Megapolis happy!
Stage 4 - Final Touches
The Palace is built, now you should upgrade it to hold more visitors!
Tasks:
Upgrade the Palace of Love so it can hold more couples. Hire some friends!
Rewards:
Incredible! The number of visitors to the Palace of Love has increased, and you're getting help from your friends!
Achievement - Matchmaker
Achievement after Building the upgraded Palace of Love
| | |
| --- | --- |
| | "Great! Congratulations! You've built a Palace of Love in Megapolis. Residents are grateful to you and have nicknamed you the Matchmaker!. |
Trivia
Social Quantum's internal name for this quest is "Праздник влюбленных".
Social Quantum's ID for this quest is 70082.
References