Macau Center Hotel (Foundation)
Plot
3x3
Cost
845,000 
6 
15 
10 
Provides
500 
Population limit:

1,000 

1,300 
No periodic benefit
Construction
Instant
The Macau Center Hotel is an infrastructure building/a production building that can be placed by the user anywhere in the Tourist Island. It was added during an update on 03.27.2015 as part of the Beijing Capital Contest.[1]
A total of 70 assets are needed to complete construction of the Macau Center Hotel. This is equivalent to 78 

if one were to buy every asset instead of waiting to receive them from neighbors.
Quests and Achievements
Quests
Requirements
Contracts
Macau Center Hotel: Contracts
Name
Cost
Duration
Reward
XP
Coins/Minute
XP/Minute
Requirements

Tour of Beijing Architectural Monuments
14,000 
7 hours
60,000 
480 
109.52 
1.14 
Macau Center Hotel
(Level 1)

Peking Duck Tasting
12,100 
10 hours
52,300 
370 
67.00 
0.62 
Macau Center Hotel
(Level 1)
Macau Center Hotel (Level 1)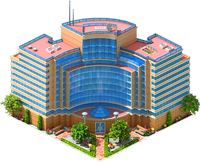 Trivia
SQ Internal Info:

Name: Макао Центр Отель (translates to Macau Centre Hotel)
ID: 10090701 (macau_centre_hotel_buildsite)
References