The Macau Grand Hotel is an infrastructure structure that can be placed anywhere in Megapolis except in Las Megas. It was originally released on May 03, 2013[1] as part of the timed quest called Elite Spa Resort, which was revamped with new data on December 02, 2014[2] and again on August 25, 2015[3]. If purchased before August 25, 2015, one of the old data is used.
A total of 60 assets are needed to complete construction of the Macau Grand Hotel. This is equivalent to 88 

if one were to buy every asset instead of waiting to receive them from neighbors.

For buildings purchased before August 25, 2015, the following data is used:
Events and Achievements
Requirements
Macau Grand Hotel (Level 1)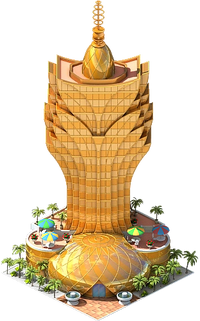 Trivia
SQ Internal Info:

Name: Гранд-отель "Макао" (translates to Grand Hotel "Macau")
ID: 17103 (grand_hotel_macau_buildsite)
References
Ad blocker interference detected!
Wikia is a free-to-use site that makes money from advertising. We have a modified experience for viewers using ad blockers

Wikia is not accessible if you've made further modifications. Remove the custom ad blocker rule(s) and the page will load as expected.