Megapolis Unity Station (Foundation)
Plot
Fixed
Cost
20,000 
1 
10 
10 
Provides
150 
No periodic benefit
Construction
Instant

The Megapolis Unity Station is a transport hub located south of Sawmill. It was added during an update on 12.08.2014 as part of the timed quest called Railroad.[1]
A total of 330 assets are needed to complete construction of the Megapolis Unity Station. This is equivalent to 350 

if one were to buy every asset instead of waiting to receive them from neighbors.
Before 02.13.2015, the data for Level 4 was as followed,
Maximum capacity duration: 5 hours 12 minutes 54 seconds
See Rail Transportation for more related details.
Quests and Achievements
Quests
Achievements
Requirements
Megapolis Unity Station (Level 1)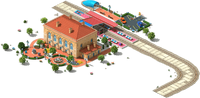 Megapolis Unity Station: Baggage Weigh-in Point (Level 2)
Megapolis Unity Station: Long-distance Ticket Booths (Level 3)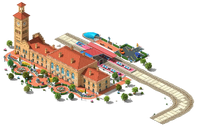 Megapolis Unity Station: Banking Center (Level 4)
Data
Level
XP
Production
Limit
Rate[d 1]
Limit
Rate[d 2]
Max Cap Duration
1
350 
16,000 
2250/hour
800 
112.5/hour
07:06:40
2
500 
24,000 
4500/hour
1,200 
225/hour
05:20:00
3
800 
32,000 
7593.8/hour
1,600 
379.7/hour
04:12:50
4
1,500 
44,000 
8437.5/hour
2,200 
421.9/hour
04:51:23
↑ Bonus:
↑ Bonus:
Trivia
SQ Internal Info:

Name: Строительство вокзала "Мегаполис юнити" (translates to Construction of the station "Megapolis Unity")
ID: 71232 (train_station_megapolis_unity_place)
References