Megapolis University (Building) (Foundation)
Plot
Fixed
Cost
35,000 
3 
12 
3 
Provides
200 
Population limit:

5,500 

No periodic benefit
Construction
Instant

The Megapolis University is a production building located far north of the starting zone, added during an update on 08.27.2013 as part of Megapolis University timed Quest.[1]
A total of
65 assets
are needed to complete construction of the
Megapolis University (Building)
. This is equivalent to
65

if one were to buy every asset instead of waiting to receive them from
neighbors
.

Quests and Achievements
Requirements
Contracts
Megapolis University (Building): Contracts
Name
Cost
Duration
Reward
XP
Coins/Minute
XP/Minute
Requirements

Administrative Meeting[c 1]
4,350 
2 hours
5,950 
50 
13.33 
0.42 
Administrative Building (Level 1)

Tests
6,700 
8 hours
17,100 
130 
21.67 
0.27 
Calculus Lab

Freshman Admissions[c 2]
7,900 
6 hours
13,300 
60 
15.00 
0.17 
Academic Building (Level 2)

Student Team Competition
8,500 
6 hours
14,500 
120 
16.67 
0.33 
Alpha Sigma Fraternity House

Student Party
9,450 
6 hours
16,000 
125 
18.19 
0.35 
Kappa Mu Delta Sorority House

Enrollment[c 3]
9,500 
12 hours
25,100 
180 
21.67 
0.25 
Auditorium

Open House[c 4]
10,400 
8 hours
20,000 
150 
20.00 
0.31 
University Library

Student Science Conference
12,800 
12 hours
29,600 
200 
23.33 
0.28 
Heritage Center
Administrative Building (Level 1)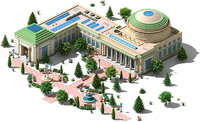 Academic Building (Level 2)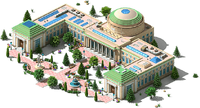 | Requires | Rewards |
| --- | --- |
| | Access to purchase Campus foundation |
Extra Buildings
Studentinnenverbindungshaus Kappa Mu Delta
Alpha Sigma Fraternity House
120,000  or 2 
Maximum 5 can be built
95,000  or 3 
Maximum 5 can be built
23  and 15 
16  and 14 
2x2 Plot
4 hours build
2x2 Plot
3 hours build
1,300 
Access to Student Party contract above
1,200 
Access to Student Team Competition contract above
500  and 30  every 5 hours
Pop per Minute: 1.67 
XP per Minute: 0.10 
580  and 30  every 5 hours
Pop per Minute: 1.93 
XP per Minute: 0.10 
Can be sold for 24,000 
Can be sold for 19,000 
Deprecated Buildings
Studentinnenverbindungshaus Kappa Mu Delta[2]
Alpha Sigma Fraternity House[3]
40,000  or 3 
Maximum 5 can be built
45,000  or 3 
Maximum 5 can be built
16  and 15 
16  and 14 
2x2 Plot
4 hours build
2x2 Plot
3 hours build
450 
Access to Student Party contract above
450 
Access to Student Team Competition contract above
500  and 30  every 10 hours
Pop per Minute: 0.83 
XP per Minute: 0.05 
480  and 25  every 8 hours
Pop per Minute: 1 
XP per Minute: 0.05 
Can be sold for 8,000 
Can be sold for 9,000 
Trivia
SQ Internal Info:

Name: Университет Мегаполиса (translates to University of Megapolis)
ID: 17663 (megapolis_university_place)
References
↑ Before October 10, 2014
↑ Before October 03, 2014