Miracle Stall (Construction)
Plot
3x3
Cost
2,600,000 
6 
56 
54 
Provides
1,800 
Population limit:

1,600 

1,000 
No periodic benefit
Construction
Instant
The Miracle Stall is a production building that can be placed by the user anywhere in the Megapolis mainland. It was added during an update on 12.19.2014 as part of the Winter Capital contest.[1]
A total of 80 assets are needed to complete construction of the Miracle Stall. This is equivalent to 86 

if one were to buy every asset instead of waiting to receive them from neighbors.
Events
Requirements
Contracts
Miracle Stall: Contracts
Name
Cost
Duration
Reward
XP
Coins/Minute
XP/Minute
Requirements

Wrapping Christmas Presents
16,700 
8 hours
72,300 
560 
115.83 
1.17 
Miracle Stall (Level 1)

Master Class on Painting Tree Decorations
12,600 
10 hours
54,500 
396 
69.83 
0.66 
Miracle Stall (Level 1)
[C 1]
↑ Special Contract: 6 friends may assist, increasing reward by 600  each; they receive 600  each.
Miracle Stall (Level 1)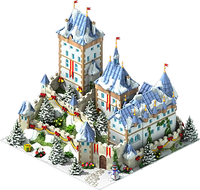 Trivia
SQ Internal Info:

Name: Лавка чудес (translates to Tent of Miracles)
ID: 10090503 (tent_miracles_buildsite)
References