Monorail Section (Las Megas) (Foundation)
Plot
Fixed
Cost
Provides
No periodic benefit
Construction
Instant
The Monorail Section (Las Megas) is a transport hub which connects the stations and port for the trains to move. It was originally introduced on April 28, 2015 as part of the timed quest called Las Megas Monorail.[1] A total of XXX pieces of Monorail Sections can be built to complete the full network through Las Megas.
Events and Achievements
Requirements
Connection to the connected stations
Monorail Section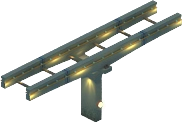 Images
Trivia
SQ Internal Info:

Name: Участок монорельса (translates to Monorail station)
ID: 10060067 (gambling_monorail_buildsite)
References
Ad blocker interference detected!
Wikia is a free-to-use site that makes money from advertising. We have a modified experience for viewers using ad blockers

Wikia is not accessible if you've made further modifications. Remove the custom ad blocker rule(s) and the page will load as expected.