For disambiguation, see Mountain Hotel (disambiguation).
For the quest involving the building above, see Mountain Hotel (Quest).
Mountain Hotel (Foundation)
Plot
Fixed
Cost
35,000 
2 
12 
8 
Provides
150 
Population limit:

5,000 

No periodic benefit
Construction
Instant
The Mountain Hotel is a production building located in the Rocky Mountains game zone, northwest of the playable game area at the base of the mountains. It was added during an update on 12.13.2013.[1]

A total of 25 assets are needed to complete construction of the Mountain Hotel. This equates to 25  if one were to buy every asset instead of waiting to receive them from neighbors.
TIP
All of the assets required for this building can be obtained directly from the associated quests (including prerequisite The Rocky Mountains quest). Thus, with the exception of the foundation purchase, the building is essentially free.
Quests and Achievements
Quests
Requirements
Contracts
Mountain Hotel: Contracts
Name
Cost
Time
Reward
XP
Coins /Minute
XP /Minute
Requirements

Grand Season Opening[1]
2,600 
4 hours
9,000 
50 
26.70 
0.20 
Mountain Hotel

Snowmobile Ride
3,200 
4 hours
10,000 
55 
28.30 
0.20 
Mountain Hotel

Amateur Skiing Competition
3,900 
6 hours
14,700 
85 
30 
0.20 
Downhill Ski Track (Level 2)

Express Course in Mountain Survival
4,500 
8 hours
21,300 
120 
35 
0.30 
Climbing Route (Level 2)

Life and Health Insurance
5,600 
2 hours
9,400 
30 
31.70 
0.30 
Insurance Office (Level 2)

Dog Sled Ride
5,700 
6 hours
17,700 
90 
33.30 
0.30 
Mountain Hotel

Nighttime Tour around Aspen
8,600 
6 hours
21,800 
120 
36.70 
0.30 
Cableway (Level 2)

Snowboarding
10,000 
4 hours
19,000 
90 
37.50 
0.40 
Snowboard Track (Level 3)

Spa Center
10,500 
6 hours
24,300 
140 
38.30 
0.40 
Hot Springs Health and Wellness Center (Level 2)
↑ Special Contract: 2 friends may assist, increasing reward by 200  each; they receive 200  each.
Mountain Hotel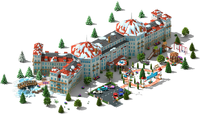 TIP
Completion of the The Rocky Mountains quest provides 10 x Iron Beams that can be used for this construction.
TIP
Completion of the Mountain Hotel quest provides 10 x Mirrors that can be used for this construction.
TIP
Completion of the Homes and Parks quest provides 5 x Decorative Stones that can be used for this construction.
Ad blocker interference detected!
Wikia is a free-to-use site that makes money from advertising. We have a modified experience for viewers using ad blockers

Wikia is not accessible if you've made further modifications. Remove the custom ad blocker rule(s) and the page will load as expected.