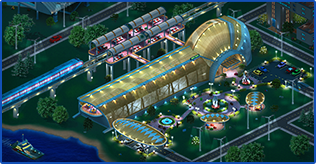 New Las Megas Stations! is a quest introducing the new and upgraded Las Megas monorail transportation system. It was released as part of an update on May 15, 2015.[1]
"Las Megas is a unique entertainment region that enjoys colossal popularity. And it needs a modern and developed transportation network! Building new stations and modernizing trains and ferries could lead to unlocking new areas, increasing citizen loyalty and more income."

"Visit Las Megas to start building new luxury stations, trains and ferries!"

"The residents are asking the mayor to: Develop transport in Las Megas"

"Develop transport in Las Megas: build new outstanding stations, upgrade your trains, build a monorail and unlock a new island!"
---

New Las Megas Stations!
Requirements
The New Las Megas Stations! quest unlocks once the following conditions have been met:
The quest was treated as a timed quest which expired on May 22, 2015.
Goals
Las Megas is in need of a highly modern and advanced transportation network. Hurry and start modernizing it!
Rewards
For completing this task, you receive experience and building materials. Use them wisely!
Trivia
Social Quantum's internal name for this quest is "Новые вокзалы Лас-Мегаса" which translates to "New stations Las Megas".
Social Quantum's ID for this quest is 10020180/10020181.
References