Observation Tower (Foundation)
Plot
2x2 tall
Cost
2,200,000 
22 
20 
Provides
2,000 
Population limit:

20,000 

No periodic benefit
Construction
Instant

The Observation Tower is a production building added during an update on 03.14.2014.[1] The building is avalible in both the main Megapolis game zone as well as in the Rocky Mountains game zone (only one copy of the building can be constructed per game zone).
A total of 170 assets are needed to complete construction of the Observation Tower. This is equivalent to 225 

if one were to buy every asset instead of waiting to receive them from neighbors.
Requirements
Contracts
Observation Tower: Contracts
Name
Cost
Duration
Reward
XP
Coins/Minute
XP/Minute
Requirements

Laser Show[c 1]
40,000 
6 hours
82,000 
540 
116.67 
1.50 
Observation Tower (Level 2)

Daytime Display[c 2]
45,000 
8 hours
105,000 
800 
125.00 
1.67 
Observation Towers (Level 4)
Contract Notes:
↑ Special Contract: 4 friends may assist, increasing reward by 600  each; they receive 600  each.
↑ Special Contract: 6 friends may assist, increasing reward by 800  each; they receive 800  each.
Observation Tower Frame (Level 1)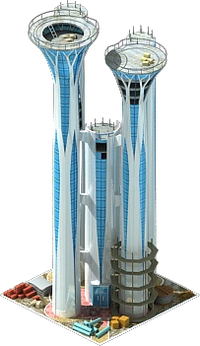 Observation Tower (Level 2)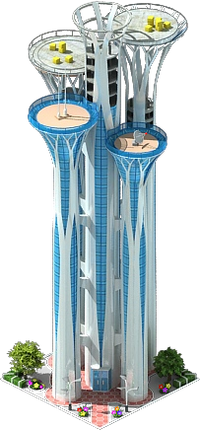 Observation Tower Expansion (Level 3)
Observation Towers (Level 4)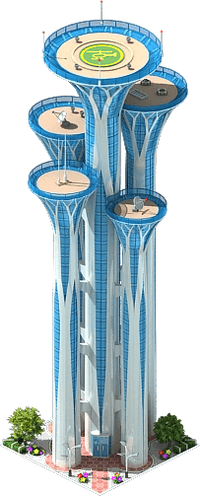 References