The Railroad Depot is a transport hub located on the southern south east border of the Central Region expansion zone in Industrial Complex. It was originally introduced on July 15, 2015 as part of the timed quest called Industrial Complex.[1]
The hub is required to upgrade the trains running in Industrial Complex.
A total of 390 assets and additional 220,000 

worth diagrams are needed to complete construction of the Railroad Depot. This is equivalent to 390 

if one were to buy every asset instead of waiting to receive them from neighbors.
Events and Achievements
Requirements
Railroad Depot (Level 1)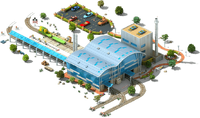 Railroad Depot: Steelworks Section (Level 2)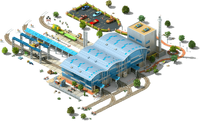 Railroad Depot: Maintenance Department (Level 3)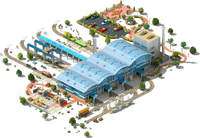 Railroad Depot: Experimental Workshop (Level 4)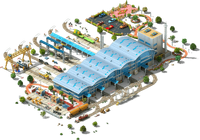 Trivia
SQ Internal Info:

Name: Железнодорожное депо (translates to Railway depot)
ID: 23006 (mining_train_works_place)
References
Ad blocker interference detected!
Wikia is a free-to-use site that makes money from advertising. We have a modified experience for viewers using ad blockers

Wikia is not accessible if you've made further modifications. Remove the custom ad blocker rule(s) and the page will load as expected.