The Shakespeare Gardens is an infrastructure structure located on the far east of the Expansions#Overpass expansion. It was originally introduced on May 23, 2014 as part of the timed quest called Talk like Shakespeare.[1]
A total of
60 assets
are needed to complete construction of the
Shakespeare Gardens
. This is equivalent to
70

if one were to buy every asset instead of waiting to receive them from
neighbors
.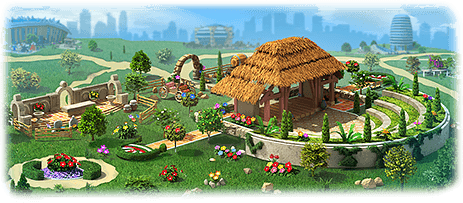 Gallery
Assets
Shakespeare Gardens (Level 1)
Gardens Expansion (Level 2)
Data
| Level | Population Limits | XP | Power | Water | Additional Access |
| --- | --- | --- | --- | --- | --- |
| Level 0 | 5,500  (+5,500) | 280  (+280) | 15  (+15) | 13  (+13) | — |
| Level 1 | 11,500  (+6,000) | 400  (+120) | 30  (+15) | 28  (+15) | Access to Shakespearean Sonnets Reading contract at the Swan Theater |
| Level 2 | 19,000  (+7,500) | 600  (+200) | 45  (+15) | 43  (+15) | Access to Theatrical Makeup Master Class contract at the Swan Theater |
| Total/Max | 19,000  | 1,280  | 45  | 43  | — |
Trivia
SQ Internal Info:

Name: Шекспировские сады (translates to Shakespearean gardens)
ID: 10019052 (shakespeare_gardens_place)
References