Ski Hill (Construction)
Plot
3x3
Cost
450,000 
15 
15 
Provides
750 
Population limit:

5,000 

160  and 15 
every 1 hour 48 minutes
Construction
Instant
The Ski Hill is an infrastructure building that can be placed by the user anywhere in the Megapolismainland. It was added during an update on 12.25.2012 as part of the 2012 Christmas Pack.[1]
A total of 90 assets are needed to complete construction of the Ski Hill. This is equivalent to 90 

if one were to buy every asset instead of waiting to receive them from neighbors.
Quests and Achievements
Quests
Requirements
Ski Hill Construction (Level 1)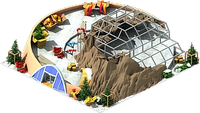 Ski Hill (Level 2)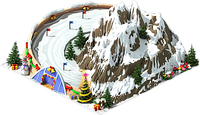 Trivia
SQ Internal Info:

Name: Строительство лыжной горки (translates to Construction of a Ski hill)
ID: 18356 (ski_hill_stage1)
References