The St. Stephen's Cathedral is a production structure that can be placed anywhere in Megapolis Mainland. It was originally introduced on August 11, 2015.[1] The contracts and construction of this building provides

for
World Architecture: Through the Ages.
A total of 70 assets are needed to complete construction of the St. Stephen's Cathedral. This is equivalent to 80 

if one were to buy every asset instead of waiting to receive them from neighbors.
Events and Achievements
Requirements
Contracts
St. Stephen's Cathedral: Contracts
Name
Cost
Time
Reward
XP
Coins /Minute
XP /Minute
Requirements

Tour of the World-Famous Architectural Monuments
9,000 
2 hours
39,000 
400 
250 
3.30 
St. Stephen's Cathedral

History of Architecture Lecture[C 1]
16,000 
5 hours
70,000 
1,100 
180 
3.70 
St. Stephen's Cathedral
↑ Special Contract: 4 friends may assist, increasing reward by 1,000  each; they receive 1,000  each.
The contracts above, when completed, provide additional 60 

60 
except for the 1 special contract which provides 85 

85 
 and 2 

2 
for helping. Recovering or forcing with

provides 25 

25 
.
St. Stephen's Cathedral (Level 1)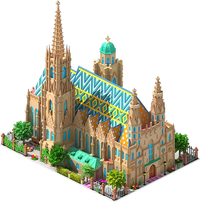 Trivia
SQ Internal Info:

Name: Собор Святого Стефана (translates to St. Stephen's Cathedral)
ID: 10091001 (st_stephens_cathedral_buildsite)
References
Ad blocker interference detected!
Wikia is a free-to-use site that makes money from advertising. We have a modified experience for viewers using ad blockers

Wikia is not accessible if you've made further modifications. Remove the custom ad blocker rule(s) and the page will load as expected.