Ad blocker interference detected!
Wikia is a free-to-use site that makes money from advertising. We have a modified experience for viewers using ad blockers

Wikia is not accessible if you've made further modifications. Remove the custom ad blocker rule(s) and the page will load as expected.
Stock Exchange
Plot
2x2 tall
Cost
75,000 
3 
25 
15 
Provides
[1]400 
Population limit:
No periodic benefit
Construction
Instant
The Stock Exchange is an extra building that was released in an update on 04.26.2013. It allows the player to gamble on the Stock Exchange, for the chance to win rewards up to the jackpot of 1,000

for 100 points. The Stock Exchange gives one free play on the stock exchange per day. Two additional free plays per day can be obtained by completing construction projects. Additional plays can then be purchased for 1 

1 
each.
Achievements
Trader (25 points, 50, 75, 100)
Stock Exchange Points can be earned by spending 1

per point, or waiting to use 1-3 free plays per day.
One free play a day can be automatically earned from (when the project is fully built and in your city):
After you have your points, they can be used to gamble on the 'Stock Exchange'.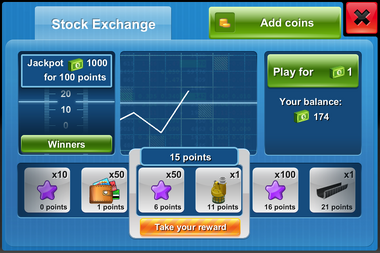 The above image shows the iOS version of the Stock Exchange.
Click the button.
The white line crosses the screen and moves between the upper positive section and the lower negative half. You must land in the upper section in order to keep playing. If you land in the red at any time, you cannot gamble again and you must collect whatever points you have accumulated so far.
You can keep playing as long as you always stop in the upper half.
Each 'play' can increase your points by up to 10 points.
If you exit the game client after accumulating points, the total will be cancelled.
Free plays are not credited until you have collected the previous day's earnings.
TIP
One cannot reach the 100-point jackpot automatically by simply continuing to purchase plays for 1 . After the daily free plays, it is possible to end "in the red", which forces the player to accept the current rewards and exit the game:

You've lost. Don't despair! You can always take yoru win and try again!
Rewards
Points
Possible Rewards
0
1

50

6
9
11
16
21
23
25
27
29
31
33
35
37
39
41
43
45
47
49
51
52
53

Titanic Hotel
6x Random required asset

54
55
56
57
58
59
60
61
62
63

Historical Museum (old version)

64
65
66
??
??
72

Capitol Building
11x Random required asset

??
100
Offers buildings at higher points levels.
Trivia
The Stock Exchange is based on the Hearst Tower in Charlotte, NC.
Cite error: <ref> tags exist, but no <references/> tag was found