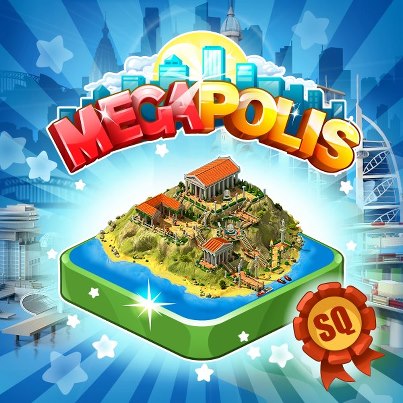 Megapolis has been updated! Lift the mysterious island of Atlantis from the bottom of the ocean. Find the treasures of ancient civilizations in the lost city!
NEW ITEMS:
Weather Office (3 or 120 000 )
Main Laboratory Complex (3 or 310 000 )
NEW QUESTS:
The legendary lost city of Atlantis has been found!
Stages:

Start researching Atlantis
Build a laboratory complex and set up an infrastructure for thoroughly researching and restoring the ancient ruins!
Restore Atlantis
Stages:

Visit the cities of 7 friends and tell them about the discovery of the strange crater.
Collect 2,000 coins in taxes
Build the main laboratory complex
House 1,800 residents
Found a weather bureau
Conduct research into secret technologies
Build a radar system
Build a launch pad
Search for extraterrestrial civilizations
Construct a sealab
Conduct a study of the historical legacy
Restore Atlantis
Please, vote, we need your opinion on the new fascinating event update, breathtaking quests and beautiful objects added!
Play Megapolis to find all new features in the game!
Find us on Twitter: http://bit.ly/RGBFyd