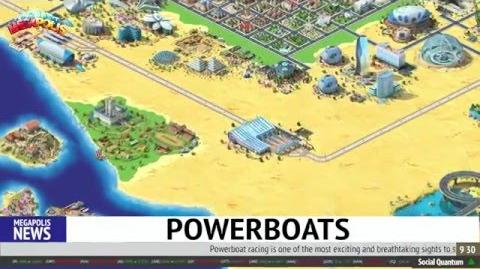 Powerboat racing is one of the most risky and breathtaking sights to see. And soon it will take place in Megapolis!
Prepare for the most extraordinary competition on the water. Take care of the required infrastructure, build the Water Track and invite as many friends as you can!

A contest is starting in Megapolis – World Architecture: Monaco! Construct famous buildings from Monaco in your city. Collect taxes from them, house residents and complete contracts to earn contest points. You can use contest points to get coins, materials, Megabucks and unique buildings from Monaco!

NEW ITEMS:
NEW QUESTS:

NEW PACK ITEMS:
Cannes Palace (Pack 1)
Bubble Palace (Pack 2)
Maeterlinck Palace (Pack 3)

Please vote #1 and vote #2, we need your opinion on the new terrific update, wonderful quests and brilliant objects added!
Play Megapolis to find all new features in the game!
Find us on Twitter
Ad blocker interference detected!
Wikia is a free-to-use site that makes money from advertising. We have a modified experience for viewers using ad blockers

Wikia is not accessible if you've made further modifications. Remove the custom ad blocker rule(s) and the page will load as expected.