Washington Monument (National Promenade)
Plot
3x9 short
Cost
100,000 
N/A 
10 
20 
Provides
1,000 
Population limit:

25,000 

No periodic benefit
Construction
Instant
The Washington Monument is a production building added during an update on 06.28.2013 as part of National Championship timed quest.
To buy the foundation, search for "National Promenade" in the shop.
As with all construction projects, there is a choice between waiting, and receiving gifts via neighbors, or buying any/all required assets with megabucks

. A total of 70 assets are needed to complete construction of the Washington Monument; this equates to 70 

if you were to buy every asset.
Quests and Achievements
Quests
Contracts
Washington Monument: Contracts
Name
Image
Cost
Time
Reward
XP
Coins/Minute
Requirements
Staging Holiday Events
6,000  
6 hours
15,000  
60 
25  
Washington Monument (Level 2)
While the Contract is running - a (very cool) 'Stars & Stripes' flag style firework display bursts above the structure!
Washington Monument Frame (Level 1)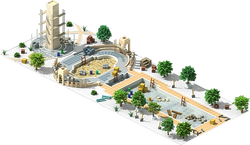 Washington Monument (Level 2)