The Water Supply Wells are two Water Supply structures located on the western south west borders of the Central Region and Coastal Valley expansion zone in Industrial Complex. Both were added during an update on July 15, 2015.[1]
A total of 25 assets are needed to complete construction of the Water Supply Well. This is equivalent to 25 

if one were to buy every asset instead of waiting to receive them from neighbors.
Requirements
Water Supply Well Frame (Level 1)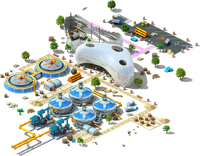 Asset
Image
Amount
Price
Cost
Cement
5x
1 
5 
Water Supply Well (Level 2)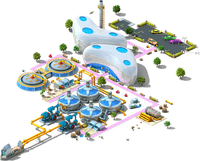 Water Supply Well: Submersible Pump System (Level 3)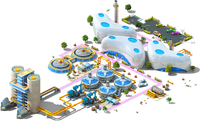 Asset
Image
Amount
Price
Cost
Pipes
5x
1 
5 
Water Supply Well: Water Purification Station (Level 4)
Asset
Image
Amount
Price
Cost
Piles
5x
1 
5 
Water Supply Well: Water Disinfection Station (Level 5)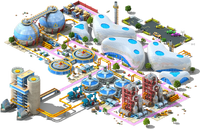 Trivia
SQ Internal Info:

Name: Водозаборная скважина (translates to Water borehole)
ID: 23123 (water_well1_place)
References