The Winter Park Office is an infrastructure building located south-east of the Rocky Mountains expansion. It was added during an update on 01.13.2015 as part of the timed quest called Winter Park.[1]
A total of 170 assets are needed to complete construction of the Winter Park Office. This is equivalent to 170 

if one were to buy every asset instead of waiting to receive them from neighbors.
Quests and Achievements
Quests
Requirements
Winter Park Office Frame (Level 1)
Winter Park Office (Level 2)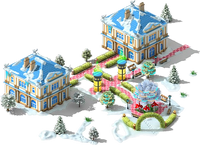 Winter Park Office: Ticket Booth (Level 3)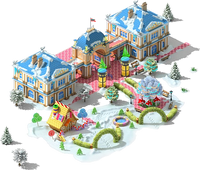 ↑ Border Tape is known as Lawn Edge
Trivia
SQ Internal Info:

Name: Администрация Зимнего парка (translates to Administration of Winter Park)
ID: 10019675 (admin_winter_park_place)
References