For Yacht Club disambiguation, see Yacht Club (disambiguation).
For the Yacht Club timed quest of the update on 10.15.2013, see Yacht Club (Quest).
Yacht Club (Construction)
Plot
Fixed
Cost
25 
10 
Provides
2,000 
Population limit:

15,000 

No periodic benefit
Construction
Instant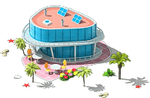 The Yacht Club is a location just to the south-west of the starting game zone, on the coastline, released in an update on 06.11.2013 It can be upgraded three levels, all granting a higher increase to the Population Cap.
As with all construction projects, there is a choice between waiting, and receiving gifts via neighbors, or buying any/all required assets with megabucks

. A total of 66 assets are needed to complete construction of the Yacht Club to level three; this equates to 73 

if you were to buy every asset.
See also: Lighthouse
Quests and Achievements
Requirements
Yacht Club Hydrophobic Foundation (Level 1)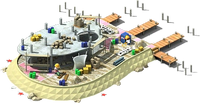 Yacht Club Pier (Level 2)
Yacht Club (Level 3)